Product description
Shipping & Return
Now Removing Dent Has Become Even Easier!
No Longer Have to be Back-Breaking Work! 
No Need to Spend Heavy Amount for a Simple Dent Repair!
FEATURES:
Highly Convenient Dent Remover:  Car Dent Remover is Ergonomically Designed and gives the Best Results in Fixing Car Dents. The Aluminum Suction Cup Abs Material of the Suction Cups is Durable And Sturdy. It is Designed to Pull out the Metal of the Vehicle's Body using a Combination of Suction and Force.
 
Easy To Use: This Suction Car Dent Remover features a Single-Stroke pump action for convenience. Anyone can be able to remove dents after taking a little time learning the dent repair process.

Ultra-Powerful Suction Lock: When this suction cup is locked in place, it can lift up to 10 kg of weight. Its Suction Lock is Designed to give you the best results possible.

Flexible: This Product is a Great Dent Puller as well as the Ideal Tool for Moving Flat Objects in any Home Garage or Professional Body Shop!  It is Safe to be Used on Car Surfaces and Will Not Damage the Paint of your Car.

Highly Durable and Impactable: This Suction Dent Remover is made with Durable Handles and an Impact-Resistant housing to withstand work site abuse. Ideal for Home, Shop, Garage, or Workplace.
SPECIFICATIONS:



Material: ABS Plastic + Natural Rubber Bottom
Diameter: 5.8CM
Weight: 36G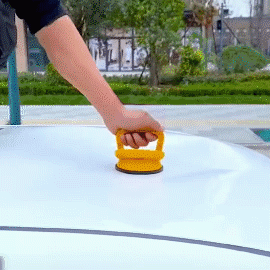 🤩 So Get One For You Today,
And Give Your Car A Fresh New Look!
100% SATISFACTION GUARANTEE!:
100% Quality Inspection On Every Order.
No Hidden Fees.
End to End Tracking Every Order.
Made in INDIA!
Shipping cost is calculated at the time of checkout. Just add products to your cart to see the shipping price.
We want you to be 100% satisfied with your purchase. Items can be returned or exchanged within 7 days of delivery.
Actually works
This was very easy to use and surprisingly worked. I couldn't get the tiniest portion out because of the angle of the dent and where it lyes but the huge dent came out with ease
This Fixed a rs5000 Repair Job
Can't believe this worked so well! I had this dent in my truck for years and when I finally got around to getting a repair estimate, I was quoted $600. I figured I would try this cheaper alternative first, and thankfully I did. I poured hot water on the dent for 10 seconds and tried the big suction cup. I didn't work and provided little suction. Then I used a small suction over the center of the dent and slowly pulled back and BAM! It was good as new.
Worked like a charm; got 95% of the dent out
I tried with the large yellow suction cup, but for some reason it didn't work. The two smaller black ones worked great, however. Pulled and re-pulled maybe half a dozen times until it was all out (nearly) completely. Very satisfied.
Worth the money
Someone said it would be rs4000 to fix the dent. I figured I would try these, it's out. It's not perfectly smooth but it's really close an saves me money.
Great product
Was able to take a dent out my car using the hot water method. Very satisfied